Description
Introducing the X9 Ultra Smart Watch, the perfect companion for your active lifestyle. With its Super amoled  screen and 49mm space aluminum case, this watch is not only stylish but also durable. Plus, it features wireless charging for added convenience.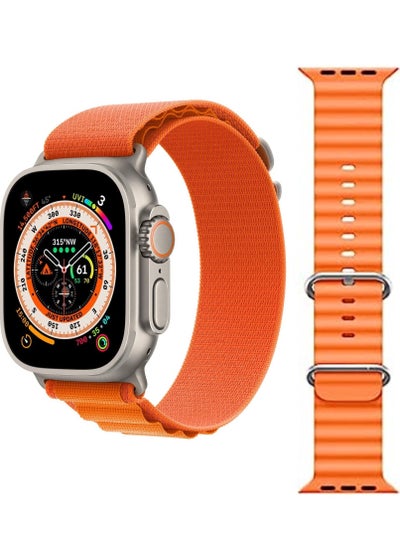 Stay connected with the X9 Ultra Smart Watch's phone features. Connect it to your mobile phone to sync contacts and call records. You can even make calls directly from your watch.
Monitor your health with ease. The X9 Ultra Smart Watch measures your heart rate, blood pressure, and blood oxygen levels. It even records your last 7 measurements and displays the highest and lowest values. Plus, track your exercise data including calories burned, activity time, steps taken, and distance covered.
Whether you're indoors or outdoors, this smart watch has you covered. It includes 6 regular indoor sports and 7 outdoor sports, with 5 major sports data recorded during exercise. You can set sports goals and monitor your progress. And with breath training, you can quickly relax and replenish oxygen to your body.
This  x9-ultra-smart-watch can control your music playback and access your voice assistant with ease. And with Mett integration, you can convert your daily exercise volume into Mett value and track your energy metabolism equivalent of one week of exercise. Plus, monitor your pressure changes throughout the day and adjust your status accordingly.
Take control of your watch with the X9 Ultra Smart Watch's various settings, including brightness, screen on/off, do not disturb mode, sound and vibration, language switching, and more.
A watch is an important accessory that complements your elegance! Now, we have provided you with the Smart Watch X9 Ultra, which is similar to the original Apple Watch for a limited time. Don't miss the opportunity to order it before stock runs out
Display screen: 2.12 inch AMOLED full touch screen
Resolution: 485*520
Chip: SF32LB551, 1.4 MB
BT version: 5.2
Memory: 128M

Compatible systems: Android 5.0 (above), for IOS10.0 (inclusive) and above

Battery capacity: 450mAh
Only logged in customers who have purchased this product may leave a review.
Quick Comparison
Settings
X9 Ultra Smart watch

remove

Green Lion Adventure Smart Watch

remove

HW8 Ultra Smart Watch

remove

Green Lion Ultra Active Smart Watch

remove

HW68 Ultra Smart Watch

remove

Green Lion Ultra Smart Watch

remove

Name
X9 Ultra Smart watch

remove

Green Lion Adventure Smart Watch

remove

HW8 Ultra Smart Watch

remove

Green Lion Ultra Active Smart Watch

remove

HW68 Ultra Smart Watch

remove

Green Lion Ultra Smart Watch

remove

Image
SKU
6935100170312
1353HW8ULTRA
6935100170657
1353HW68ULTRA
6935100169163
Rating
Price
From:

LKR

11,950.00


or 3 X

LKR 3,983.33

with

LKR

15,700.00


or 3 X

LKR 4,200.00

with

From:

LKR

7,750.00


or 3 X

LKR 2,583.33 - LKR 4,316.67

with

LKR

15,400.00


or 3 X

LKR 4,133.33

with

From:

LKR

13,500.00


or 3 X

LKR 4,500.00

with

LKR

15,800.00


or 3 X

LKR 4,233.33 - LKR 4,400.00

with

Stock
Availability
Add to cart
Description

Brand : wearfit
Model : X9
Color : Black
Warranty : 6 Months 

IP68 Waterproof
A 2.1-inch HD screen with a resolution of 420 x 485
Double-click to wake up the screen
6 Months Warranty

 2.02-inch large IPS screen
SPO2 blood oxygen monitor
Sleep monitoring
6 Months Warranty

10 Days Standby.
Certified with IP68 Water Resistance Rating.
Heart Rate Monitor.
Sport Mode.
Wi-Fi / Bluetooth Connection.
Wireless Charging Compatibility.
6 Months Warranty

Heart rate monitoring
Sleep monitoring
Blood oxygen monitoring
3 Months Warranty

10 Days Standby
Certified with IP68 Water Resistance Rating
Heart Rate Monitor
Sport Mode
6 Months Warranty

Content

Introducing the X9 Ultra Smart Watch, the perfect companion for your active lifestyle. With its Super amoled  screen and 49mm space aluminum case, this watch is not only stylish but also durable. Plus, it features wireless charging for added convenience.

Stay connected with the X9 Ultra Smart Watch's phone features. Connect it to your mobile phone to sync contacts and call records. You can even make calls directly from your watch.

Monitor your health with ease. The X9 Ultra Smart Watch measures your heart rate, blood pressure, and blood oxygen levels. It even records your last 7 measurements and displays the highest and lowest values. Plus, track your exercise data including calories burned, activity time, steps taken, and distance covered.

Whether you're indoors or outdoors, this smart watch has you covered. It includes 6 regular indoor sports and 7 outdoor sports, with 5 major sports data recorded during exercise. You can set sports goals and monitor your progress. And with breath training, you can quickly relax and replenish oxygen to your body. This  x9-ultra-smart-watch can control your music playback and access your voice assistant with ease. And with Mett integration, you can convert your daily exercise volume into Mett value and track your energy metabolism equivalent of one week of exercise. Plus, monitor your pressure changes throughout the day and adjust your status accordingly. Take control of your watch with the X9 Ultra Smart Watch's various settings, including brightness, screen on/off, do not disturb mode, sound and vibration, language switching, and more.

A watch is an important accessory that complements your elegance! Now, we have provided you with the Smart Watch X9 Ultra, which is similar to the original Apple Watch for a limited time. Don't miss the opportunity to order it before stock runs out

Features

Music control.

Bluetooth call.

Activity tracking.

Sleep monitoring.

Multiple sports mode.

Call / Social notifications.

Display 1.44 inch TFT screen.

Heart rate auto 24H monitor.

Battery capacity 380mAh.

HW8 Ultra is another new 2022 smartwatch that supports Bluetooth calling and NFC Access control at a budget price. It is an Apple Watch Ultra clone that got a square design with a 2.02-inch large IPS screen and is equipped with several features including a heart rate monitor, SPO2 blood oxygen monitor, Thermometer, Multisport modes, Bluetooth Call, and supports Wireless charging.

10 Days Standby.

Certified with IP68 Water Resistance Rating.

Heart Rate Monitor.

Sport Mode.

Free Extra Strap.

Wi-Fi / Bluetooth Connection.

Wireless Charging Compatibility.

HW68 Ultra Smart Watch

POWERFUL HEALTH MONITORING FUNCTION

Heart rate monitoring Self monitoring for 24 hours and caring for your heart rate health all day long

Blood oxygen monitoring In- telligent blood oxygen moni- toring, easy to master the whole day blood oxygen health status

Sleep monitoring Accu- rately identify your sleep problems and provide you with quality sleep im- provement suggestions

Features

10 Days Standby.

Certified with IP68 Water Resistance Rating.

Heart Rate Monitor.

Sport Mode.

Weight
N/A
N/A
N/A
N/A
N/A
N/A
Dimensions
N/A
N/A
N/A
N/A
N/A
N/A
Additional information