Description
The PowerWave Select+ Magnetic Pad is a wireless charging pad designed to charge compatible smartphones and other devices without the need for cables or plugs. It features MagSafe compatibility, which allows for a secure connection to your iPhone 12, 13 or 14 series device.
The pad delivers up to 7.5W of charging power to iPhones and up to 15W to other Qi-enabled devices, ensuring fast and efficient charging. The non-slip surface helps keep your device in place, while the LED indicator lets you know when your device is charging. Additionally, the compact and sleek design makes it easy to take with you on the go.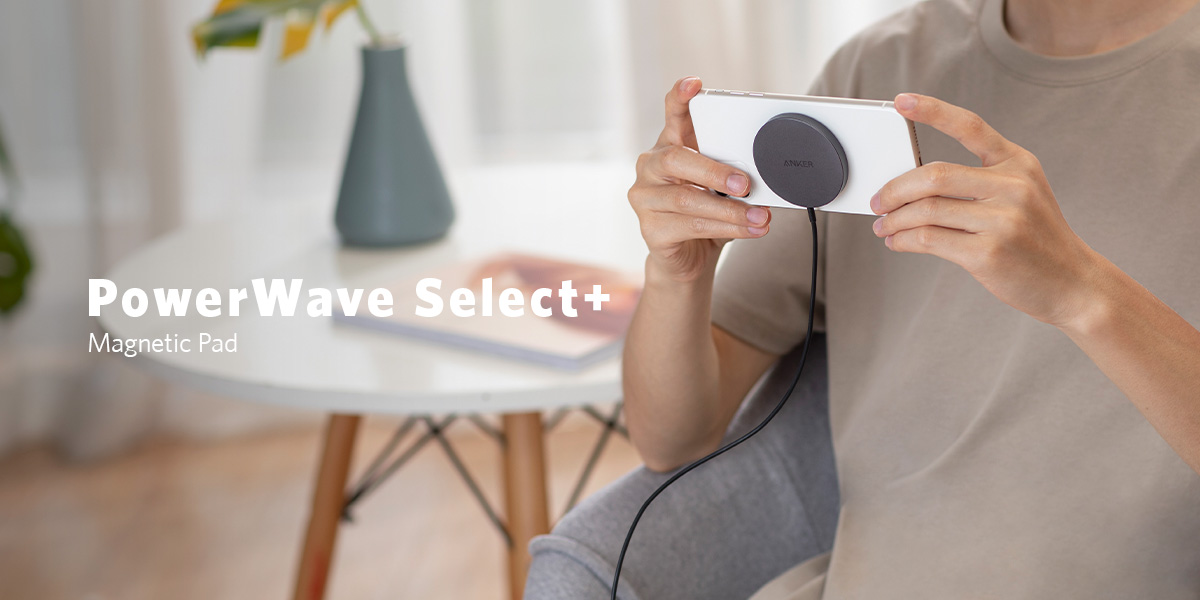 No More Alignment Problems: Snaps magnetically into place to ensure perfect alignment and a strong hold for stable and efficient charging.
Unobtrusive Design: Only 0.3 inches thick to remain as low profile as possible while clipped to the back of your phone.
Travel Ready: Compact, lightweight, and extra thin to fit easily into any backpack.
Snap On Easily

The magnet simplifies alignment. Just snap on your iPhone 12 and power up easily.

Durable Cable

Rigorous lab testing has confirmed that the cable can withstand up to 10,000 bends.

USB-C Charger Compatible

Advanced USB-C technology provides maximum power output that's enough to charge your iPhone at the maximum possible speed.

Superior Safety

Anker's MultiProtect safety system provides all-round protection for you and your devices.
Brand: Anker
Model: PowerWave
Connectivity Technology: Wireless
Connector Type: USB
Special Feature: Wireless Charging
Wattage: 18W
Only logged in customers who have purchased this product may leave a review.
Quick Comparison
Settings
PowerWave Select+ Magnetic Pad

remove

Anker PowerCore III Fusion 5K PD Portable Charger

remove

Xiaomi 33W Charging Combo (Type-A)

remove

Joyroom 30W PD Fast Charger Portable Mini Charger

remove

Porodo 3in 1 Dual Coil Wireless Charging Dock

remove

Samsung Super Fast Charging 2.0 45W Travel Adapter + USB Type-C to Type-C Cable

remove

Name
PowerWave Select+ Magnetic Pad

remove

Anker PowerCore III Fusion 5K PD Portable Charger

remove

Xiaomi 33W Charging Combo (Type-A)

remove

Joyroom 30W PD Fast Charger Portable Mini Charger

remove

Porodo 3in 1 Dual Coil Wireless Charging Dock

remove

Samsung Super Fast Charging 2.0 45W Travel Adapter + USB Type-C to Type-C Cable

remove

Image
SKU
PowerWave-Select-Magnetic-Pad
anker-powercore-iii-fusion-5k-pd-portable-charger
6934177784323
6941237183668
7267547496915
Samsung-45W-Type-C-Travel-Adapter
Rating
Price

LKR

8,790.00


or 3 X

LKR 2,650.00

with

LKR

22,790.00


or 3 X

LKR 7,266.67

with

From:

LKR

8,700.00


or 3 X

LKR 2,900.00

with

LKR

6,700.00


or 3 X

LKR 1,733.33

with

LKR

13,300.00


or 3 X

LKR 3,583.33

with

LKR

13,890.00


or 3 X

LKR 4,300.00

with

Stock
Availability
Add to cart
Description

PowerWave Magnetic Pad
Magnetically Snaps into Place
Wide Compatibility
Uninterrupted Charging
Superior Safety
3 Months Warranty

High-Speed Charging
Use Anywhere
Safer Charging for Accessories
6 Months Warranty

Short-circuit protection
Static electricity protection
Data cable encryption protection
Electromagnetic field protection
With a Type-C Cable
6 Months Warranty

High-quality: Made of premium PC fireproof material, which is durable, stable, and safe to use
Safe & Reliable: Intelligent Recognition Chip for Safer Charging. CE/UKCA/RoHS certifications passed to ensure safety
Multiple Protections: Overvoltage, Overcurrent, Overcharge, Over-discharge, and Short Circuit Protections
Simple and Beautiful: Mini and compact, easy to carry. Exquisite workmanship, good for various devices
Quick Charging: Provide fast charging for iPhone. Charge your iP 13 up to 58% in 30 minutes
6 Months Warranty

3 in 1 Wireless Charger station
Wide Compatibility
Versatile Viewing-Wireless Charging Stand
Upgraded version-Charge Safe and efficient
3 Months Warranty

Super Fast Charging 2.0
More powerful than previous travel adapters
The 45W Travel Adapter also charges at 15W
USB Type-C Cable Included
Original Samsung Product
6 Months Warranty

Content

The PowerWave Select+ Magnetic Pad is a wireless charging pad designed to charge compatible smartphones and other devices without the need for cables or plugs. It features MagSafe compatibility, which allows for a secure connection to your iPhone 12, 13 or 14 series device.

The pad delivers up to 7.5W of charging power to iPhones and up to 15W to other Qi-enabled devices, ensuring fast and efficient charging. The non-slip surface helps keep your device in place, while the LED indicator lets you know when your device is charging. Additionally, the compact and sleek design makes it easy to take with you on the go.

No More Alignment Problems: Snaps magnetically into place to ensure perfect alignment and a strong hold for stable and efficient charging.

Unobtrusive Design: Only 0.3 inches thick to remain as low profile as possible while clipped to the back of your phone.

Travel Ready: Compact, lightweight, and extra thin to fit easily into any backpack.

Snap On Easily

The magnet simplifies alignment. Just snap on your iPhone 12 and power up easily.

Durable Cable

Rigorous lab testing has confirmed that the cable can withstand up to 10,000 bends.

USB-C Charger Compatible

Advanced USB-C technology provides maximum power output that's enough to charge your iPhone at the maximum possible speed.

Superior Safety

Anker's MultiProtect safety system provides all-round protection for you and your devices.

The Anker PowerCore III Fusion 5K PD Portable Charger is a compact and versatile charging device that combines a portable battery pack and wall charger into one. It features a 5000mAh battery capacity, which can provide up to 1.2 charges for an iPhone 12 or 1 charge for an iPad mini 5.

The Ultimate 2-in-1 Charger: Combining a 5, 000mAh portable charger and powerful dual-port wall charger into a single compact device, PowerCore III Fusion 5K lets you stay powered anywhere.

This portable charger also supports fast charging with its 18W Power Delivery (PD) USB-C port, allowing you to charge compatible devices like the iPhone 12, iPad Pro, or Samsung Galaxy S20 up to 50% in just 30 minutes. It also has a USB-A port that can provide standard charging for non-PD devices.

The PowerCore III Fusion 5K PD also includes a foldable plug design for easy storage and portability, and a multiProtect safety system to ensure your devices are protected from overcharging, overheating, and short circuits. Additionally, its LED indicator shows the battery level of the power bank, making it easy to monitor your charging status.

Stay Powered On-The-Go: Get a full charge for most phones including Samsung S10, iPhone 11, and Google Pixel 4.

Joyroom 30W PD Fast Charger Portable Mini Charger

Porodo 3in 1 Dual Coil Wireless Charging Dock

If you are looking for a car charger and holder to place your phone on it in the tight condition and charge it at the same time with the Wireless charging mode you can count on this car mount. This product has been designed to rotate 360 degrees. You can have the full visibility of your screen when you want to navigate a location by the map. All because this car mount will give you the best angle of view while you rotate it in the best place that you want. This car mount can charge your phone in fast charging mode. After placing the phone. the left and right clamping arms will automatically clamp the phone. If the phone supports all wireless charging protocols, the product will start charging, and the indicator light will flash slowly when the charging process starts. If the phone does not support this kind of charging, the LED indicator light will flash quickly for 5 seconds and then the light goes out. The maximum charging power of this product is 15W. and the charging efficiency will vary according to the charging environment and mobile phone. The Porodo phone holder can act as a multi-functional mount for you.

Samsung Super Fast Charging 2.0 45W Travel Adapter + USB Type-C to Type-C Cable

Gets your phone back to 100% in record time Plug your Galaxy Note10+ into the 45W Travel Adapter to fully charge with incredible speed. More powerful than previous travel adapters, it harnesses the power of Super Fast Charging 2.0 to get to make sure you're not down for long.

Works with your friends' phones too The 45W Travel Adapter also charges at 15W. So it safely charges your other devices and your friends' Galaxy devices too, even if their Galaxy device doesn't support Super Fast Charging 2.0.

With a Type-C Cable.

Weight
N/A
N/A
N/A
N/A
N/A
N/A
Dimensions
N/A
N/A
N/A
N/A
N/A
N/A
Additional information