Description
Genuine HW9 Pro Max Smart Watch with 2.2" Amoled Display, NFC Heart Rate, Voice Assistant Smart Watch Display- AmoledScreen Size – 2.2inch
Experience the future of smartwatch technology with the HW9 Ultra Max Smartwatch. This game-changing device offers advanced features and a sleek design that will elevate your everyday life.
Fashion design, with 3 watchbands, 1 ocean strap 1 silicone strap, and 1 woven silicone strap, and Luxury gift packaging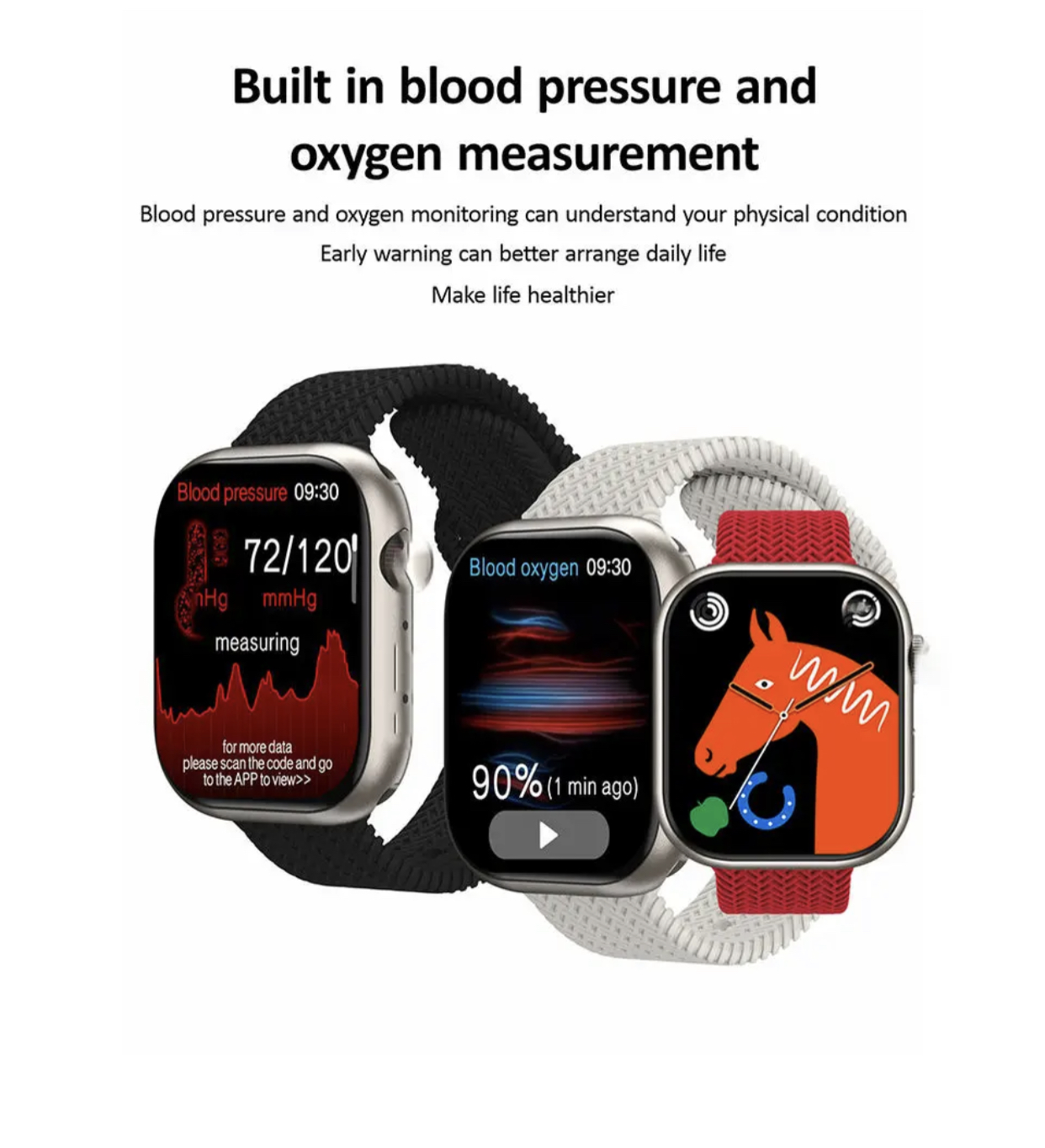 The HW9 Ultra Max, the latest model in the HW Series clone of the Apple Watch Ultra has gained popularity among tech enthusiasts. This smartwatch surpasses all other versions in terms of capabilities, size, and features. it's become the ideal choice for those seeking a large-screen watch with comprehensive features, at an affordable price.
As I mentioned, what makes this new watch better than other competitors is a new improvement that includes hardware, software, and design, and the main selling point is the 2.2-inch screen with a flat design and 49mm 1:1 Case which makes it the most exact copy of the original, and the second main selling point is Built-in Compass and get a bigger Battery Life. In addition to other basic features such as watch faces and Health & Fitness Functions, Making Calls, and even a Quick Action button Customizable on the side and a Multitasking bar, there are many more. And most importantly, powered by the newest top chip SF32LB551 for high-performance and smooth software. In short, you will get the latest technology that surpasses other smartwatches in the market, with a rugged design.
Shape- Square
Colors- black, gray
Display- Amoled
Screen Size - 2.2inch
Screen Resolution- 420*486 pixels
Compatible - Android & IOS
Sensors- • Heart rate Sensor
Bluetooth- V5.2
Only logged in customers who have purchased this product may leave a review.
Quick Comparison
Settings
HW9 Pro Max Amoled display Smart watch

remove

HW8 Ultra Smart Watch

remove

DT8 Ultra Max Smart Watch

remove

Green Lion Ultra Active Smart Watch

remove

Green Lion Adventure Smart Watch

remove

Green Lion Smart Combo Audio Glass & Smart Watch

remove

Name
HW9 Pro Max Amoled display Smart watch

remove

HW8 Ultra Smart Watch

remove

DT8 Ultra Max Smart Watch

remove

Green Lion Ultra Active Smart Watch

remove

Green Lion Adventure Smart Watch

remove

Green Lion Smart Combo Audio Glass & Smart Watch

remove

Image
SKU
1353HW8ULTRA
1353DT8ULTMAX
6935100170657
6935100170312
Rating
Price
From:

LKR

11,250.00


or 3 X

LKR 3,750.00

with

From:

LKR

7,750.00


or 3 X

LKR 2,583.33 - LKR 4,316.67

with

From:

LKR

13,950.00


or 3 X

LKR 4,650.00

with

LKR

15,400.00


or 3 X

LKR 4,133.33

with

LKR

15,700.00


or 3 X

LKR 4,200.00

with

LKR

22,450.00


or 3 X

LKR 5,966.67

with

Stock
Availability
Add to cart
Description

Brand :  wearfit
Model : HW9
Warranty : 6 Months 

 2.02-inch large IPS screen
SPO2 blood oxygen monitor
Sleep monitoring
6 Months Warranty

IP68 Waterproof | A 2.1-inch HD screen with a resolution of 420*485 Corning Gorilla Glass
Double-click to wake up the screen
6 Months Warranty

10 Days Standby.
Certified with IP68 Water Resistance Rating.
Heart Rate Monitor.
Sport Mode.
Wi-Fi / Bluetooth Connection.
Wireless Charging Compatibility.
6 Months Warranty

IP68 Waterproof
A 2.1-inch HD screen with a resolution of 420 x 485
Double-click to wake up the screen
6 Months Warranty

Brand : Green Lion 
Color : Black 
Warranty : 3 Months

Content
Genuine HW9 Pro Max Smart Watch with 2.2'' Amoled Display, NFC Heart Rate, Voice Assistant Smart Watch Display- AmoledScreen Size - 2.2inch Experience the future of smartwatch technology with the HW9 Ultra Max Smartwatch. This game-changing device offers advanced features and a sleek design that will elevate your everyday life. Fashion design, with 3 watchbands, 1 ocean strap 1 silicone strap, and 1 woven silicone strap, and Luxury gift packaging The HW9 Ultra Max, the latest model in the HW Series clone of the Apple Watch Ultra has gained popularity among tech enthusiasts. This smartwatch surpasses all other versions in terms of capabilities, size, and features. it's become the ideal choice for those seeking a large-screen watch with comprehensive features, at an affordable price. As I mentioned, what makes this new watch better than other competitors is a new improvement that includes hardware, software, and design, and the main selling point is the 2.2-inch screen with a flat design and 49mm 1:1 Case which makes it the most exact copy of the original, and the second main selling point is Built-in Compass and get a bigger Battery Life. In addition to other basic features such as watch faces and Health & Fitness Functions, Making Calls, and even a Quick Action button Customizable on the side and a Multitasking bar, there are many more. And most importantly, powered by the newest top chip SF32LB551 for high-performance and smooth software. In short, you will get the latest technology that surpasses other smartwatches in the market, with a rugged design.

HW8 Ultra is another new 2022 smartwatch that supports Bluetooth calling and NFC Access control at a budget price. It is an Apple Watch Ultra clone that got a square design with a 2.02-inch large IPS screen and is equipped with several features including a heart rate monitor, SPO2 blood oxygen monitor, Thermometer, Multisport modes, Bluetooth Call, and supports Wireless charging.

Smart Assistant A variety of convenient functions like apps notification, calendars, and app history help users alleviate life burdens on their shoulders and experience smart life on their wrists.

Bluetooth call One binding to synchronize contacts and enable the function of Bluetooth call without binding smartphone Bluetooth manually.

Wireless charging Say goodbye to the shackles of wired charging and enjoy the convenience of wireless charging.The charging interface is eyes friendly with always-on diaplay. No more blindly fumbling, and give you a warm-hearted company at night

10 Days Standby.

Certified with IP68 Water Resistance Rating.

Heart Rate Monitor.

Sport Mode.

Free Extra Strap.

Wi-Fi / Bluetooth Connection.

Wireless Charging Compatibility.

Features

Music control.

Bluetooth call.

Activity tracking.

Sleep monitoring.

Multiple sports mode.

Call / Social notifications.

Display 1.44 inch TFT screen.

Heart rate auto 24H monitor.

Battery capacity 380mAh.

That Smart watch gives you an exceptional audio experience.

It has a stylish and elegant design,

And is equipped with the latest audio technology to provide exceptional sound quality.

A smart watch gives you access to smart information and features like heart rate monitoring,

Pedometer, mobile notifications, sleep monitoring, and more.

Additionally, it has a sleek design and high-resolution display that makes it more than just a watch.

Introducing the perfect set for people who lead active lives: the Green Lion Smart Combo of Sunglasses and Adventure Watch. Amazing features include a 1.44-inch TFT display, BT 5.0+3.0 Bluetooth connectivity, wireless charging, a 380mAh battery that provides 2-3 days of operation and up to 10 days of standby time, and more. With IP68 waterproofing and NFC capabilities, it is not just intelligent but also robust. Pair it with our cutting-edge Audio Glass, which has Bluetooth 5.3 for smooth communication and two 110mAh batteries that can last up to 6 hours of use time and an amazing 200 hours of standby time on just a 2-hour charge. This Smart Combo delivers a seamless blend of modern intelligence with durability, whether you're out on an adventure or just going along in daily life
Weight
N/A
N/A
N/A
N/A
N/A
N/A
Dimensions
N/A
N/A
N/A
N/A
N/A
N/A
Additional information