Description
Durable, Support fast charging, Compatible with Lightning devices, Charging cable current rating is 1.5 A.
Made with high quality TPE, nylon and aluminum material ensure durability. Supreme Quality Cable Comes From Original Baseus Brand. Product Package Contains Unique Item Number Which Can Be Verified On BASEUS website (At Bottom Of The Page) For Authenticity.
Supports All Apple Products That Have Lightning Port With Maximum Efficiency. Equipped With World Class Protection Circuit.
Tested For 10,000 Bends Repeatedly. Simple Yet Sturdy And Unique Design. Anti-Tangle And Comes With Cable Winding Velcro For Easy Carrying.
Up to 1.5A Fast Charging With Extra Tough Kevlar + Nylon Material For Minimum Wear And Tear On Usage Over Time.
With data transmission at 480 Mbps, it allows you to transfer files, i.e. photos, films and documents in an extremely short time! Upload photos and videos from your phone to your computer and backwards at a rapid speed
The cable is made of flexible and durable nylon and the plug is finished with an aluminium housing. This makes it resistant to tearing and mechanical damage, most common in cables of this type. It passed the test positively, keeping 50 kg without any damage.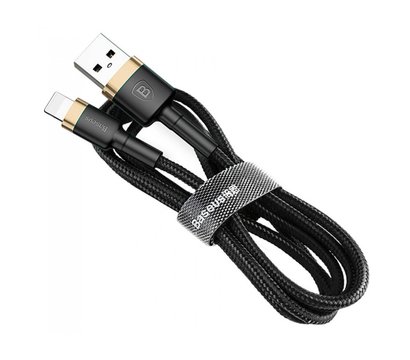 Baseus CALKLF-CV1 is a high-quality data synchronization cable with USB Type A For lightning connectors. This cable is successfully used with iPod, iPhone, iPad equipment.. Current strength is 1.5 Amperes. Strength is provided by a fabric braid that reliably protects from bending and damage. Color black with gold.
Brand: Baseus
Name: Cafule Cable
Plugs: USB / Lightning
Material: aluminum + nylon + TPE
Current: 1.5A (max)
Length: 2 meters
Functions: charging / data transfer
Compatibility: devices with a Lightning port
Only logged in customers who have purchased this product may leave a review.
Quick Comparison
Settings
Baseus Cafule Cable USB to IP Lightning 2Mtr

remove

Baseus cafule Series Metal data Cable Type C to iP

remove

Baseus Lite Series Card Reader Grey

remove

Baseus Nimble Portable Cable For iPhone

remove

T-p2 model tranyoo charging cable

remove

Baseus Cafule Series Metal Data USB Type C

remove

Name
Baseus Cafule Cable USB to IP Lightning 2Mtr

remove

Baseus cafule Series Metal data Cable Type C to iP

remove

Baseus Lite Series Card Reader Grey

remove

Baseus Nimble Portable Cable For iPhone

remove

T-p2 model tranyoo charging cable

remove

Baseus Cafule Series Metal Data USB Type C

remove

Image
SKU
Rating
Price
From:

LKR

2,800.00


or 3 X

LKR 933.33

with

From:

LKR

3,600.00


or 3 X

LKR 1,200.00

with

From:

LKR

6,200.00


or 3 X

LKR 2,066.67

with

From:

LKR

1,750.00


or 3 X

LKR 583.33

with

From:

LKR

950.00


or 3 X

LKR 316.67

with

From:

LKR

4,300.00


or 3 X

LKR 1,433.33

with

Stock
Availability
Add to cart
Description

Brand :Baseus
Color : Black
Cable Length : 2mtr

Brand :Baseus
color :black

USB3.0 High-Speed Transmission: Up to 104MB/s data transmission
Simultaneous Read for SD and TF Card: Reads for SD and TF cards at the same time, fast transferring large files offline, higher efficiency for your work
2TB Large Capacity read: Effortless read for big files and videos
Indicator Light: The indicator light turns on when it's connected to a computer, and flashes during data transmission
Working Status at a Glance: When you plug in the card reader, the indicator lights up; during data transmission, it flashes

Brand : Baseus
Color : Black
Cable Length : 23cm

Brand : Baseus
Color : Black

Content

Durable, Support fast charging, Compatible with Lightning devices, Charging cable current rating is 1.5 A.
Made with high quality TPE, nylon and aluminum material ensure durability. Supreme Quality Cable Comes From Original Baseus Brand. Product Package Contains Unique Item Number Which Can Be Verified On BASEUS website (At Bottom Of The Page) For Authenticity.
Supports All Apple Products That Have Lightning Port With Maximum Efficiency. Equipped With World Class Protection Circuit.
Tested For 10,000 Bends Repeatedly. Simple Yet Sturdy And Unique Design. Anti-Tangle And Comes With Cable Winding Velcro For Easy Carrying.
Up to 1.5A Fast Charging With Extra Tough Kevlar + Nylon Material For Minimum Wear And Tear On Usage Over Time.
With data transmission at 480 Mbps, it allows you to transfer files, i.e. photos, films and documents in an extremely short time! Upload photos and videos from your phone to your computer and backwards at a rapid speed
The cable is made of flexible and durable nylon and the plug is finished with an aluminium housing. This makes it resistant to tearing and mechanical damage, most common in cables of this type. It passed the test positively, keeping 50 kg without any damage.

Baseus CALKLF-CV1 is a high-quality data synchronization cable with USB Type A For lightning connectors. This cable is successfully used with iPod, iPhone, iPad equipment.. Current strength is 1.5 Amperes. Strength is provided by a fabric braid that reliably protects from bending and damage. Color black with gold.

Baseus Carfule Series Metal Data Cable adapted to quick charging Power Delivery 20 W.
Compatible with chargers with a power of 20 W and 18 W to iPhone and iPad.
Short 0.25 meter length, suitable for Powerbank use
5 Strands of Copper Cores for Triple Speed - The charging speed of 5 strands of 178 cores offer faster charging.
All-metal SR at a Constant Temperature - You can use your phone while charging and do not need to worry about hot connectors to damage your phone battery any Longer. Enjoy a safer and faster charging experience.
Trickle Charging Never Damage Device for Charging the Whole Night - When the device is fully charged, the trickle mode is automatically switched, charging at night is more assured.
1mm Curved Connectors - Soft rubber protection, easy to plug and unplug.
High-density Nylon Braided Material - Closely braided wire cores form a solid and wear-resistant structure.
Charging and Data Transfer with One Cable - The speed is as fast as 480Mbps, fast charging/ fast data transfer.
Metal PD 20W Fast Charging Cafule Series Metal Data Cable Type-C to iP
About 50% Charge in 30 Minutes
Designed for Apple 12 series.
Compatible with PD 18W
Suitable for charging all Apple mobile phones.
Alloy Oxidation-resistant PD Cables with Ceramic Texture
Zinc alloy material with smooth UV coating and integrated design makes this cable oxidation-resistant and colourfast.
Ensure Charging Phones with Constant Voltage
Intelligent recognition of fast charging devices helps them control current and voltage properly and ensure a safe quick charge.
Upgraded pure copper cores have strong conductivity for faster charging.
This connector with a seamless design perfectly matches the phone's charging port, solid and easy to use.

USB-A & amp : Type-C to SD/TF

Baseus Lite Series Card Reader  You can read all popular memory card formats - the reader is equipped with slots for SD and TF cards and their derivatives. This Lite  Series  Card Reader You don't need to install any drivers - the reader is a Plug & Play device. It works just a moment after connecting it to the USB / USB Type C socket. It will not take up much space - small dimensions and ergonomic shape make the reader easy to transport. USB3.0 High-Speed Transmission: Up to 104MB/s data transmission Simultaneous Read for SD and TF Card: Reads for SD and TF cards at the same time, fast transferring large files offline, higher efficiency for your work 2TB Large Capacity read: Effortless read for big files and videos Indicator Light: The indicator light turns on when it's connected to a computer, and flashes during data transmission

USB3.0 High-Speed Transmission: Up to 104MB/s data transmission Simultaneous Read for SD and TF Card: Reads for SD and TF cards at the same time, fast transferring large files offline, higher efficiency for your work2TB Large Capacity read: Effortless read for big files and videos Indicator Light: The indicator light turns on when its connected to a computer, and flashes during data transmission Working Status at a Glance: When you plug in the card reader, the indicator lights up; during data transmission, it flashes

Thanks to the USB connector, you can easily connect the reader to the computer with the appropriate socket. You don't have to worry about installing any drivers. The equipment works in the Plug & Play standard. This means that it activates as soon as it is inserted into the slot. It is also compatible with all computer operating systems .

Its cute, stylish and practical. Weighing only 9g and measuring just 23cm the Baseus Nimble Portable cable is the perfect travel accessory to charge your device or transfer data on the go. This has been designed specifically with the power bank user in mind but can also be used for more general charging or for data transfer. 23 cm flat USB / Lightning cable . For charging and transferring data from devices equipped with the mentioned ports. Perfect for powerbanks. Convenient transport - Small length, low weight and a practical hook make the Baseus Nimble a perfect accessory to take on any journey. No annoying tangling and stuffing of the cord that could damage it. Fast and safe charging - 2A current and thick wires inside the cable guarantee fast and safe energy renewal. Aluminum plugs - Elegant and durable. Abrasion and oxidation resistan Durable and durable - The cable is made of high-quality TPE , extremely flexible and resistant to high temperatures or bending . You don't have to worry that the entire cable will be thrown away if you accidentally jerk it. For charging and data transfer - Regardless of whether you want to charge your phone or transfer data , Baseus Nimble will always be up to the task.

Simple storage – Only 23 cm long and with wire buckle design, it is more convenient for power bank to charge and connect the notebook to transfer data.

Fast and safe charging – 2A current and bold wire provide a faster and more secure charging.

Aluminum plug shell – Long-lasting aluminum alloy plug housing, resistant to both oxidation and corrosion.

Durable and reliable – Made of high-quality TPE material features high elasticity, bending and high-temperature resistance.

For charging and data transfer – Perfect for both, quick charging and fast data transfer.

The tranyoo T-p2 Type-C charging cable is a smart and high-quality cable that allows you to easily connect devices with a USB-C port to your computer, laptop, power bank or charger. Using PD fast charging technology, this cable will charge your devices in the shortest possible time and also transfer data from one device to another at high speed. The cover of this cable is made of TPE and is resistant to knotting, tearing and wear. The white color of this cable gives it a beautiful and modern look. The length of this cable is 1 meter and its output current is 5 amps. This cable is compatible with many devices with a USB-C port, including smartphones, tablets, laptops and digital cameras

Brand: BaseusMaterial: zinc alloy + nylon braid wirePower: PD 20W/PD 18WTransmission rate: 480 MbpsLength: 25 cmInput interface: USB-COutput interface: Lightning
Weight
N/A
N/A
N/A
N/A
N/A
N/A
Dimensions
N/A
N/A
N/A
N/A
N/A
N/A
Additional information