Anker SoundCore Liberty Air 2 Total Wireless Earphones
Diamond-Enhanced Sound
4 Microphones with cVc 8.0 Uplink Noise Cancellation
Up to 28 Hours of Playtime
HearID Technology
One-Step Pairing and Bluetooth 5 Connectivity
3 Months Warranty
LKR

18,790.00
or 3 installments of LKR 5,633.33 with

Description
Anker SoundCore Liberty Air 2 Total Wireless Earphones
    Diamond-Enhanced Sound
Ultra-lightweight, yet rigid diamond-coated drivers produce sound with premium accuracy.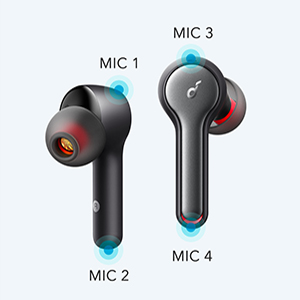 Crystal-Clear Calls
Liberty Air 2 true wireless earphones have 4 built-in microphones with cVc noise reduction technology—ideal for when you're working from home or taking conference calls.
    Soundcore App
Use the app to enhance your listening experience—choose from 22 EQ settings, use HearID to create your own personalized sound profile, or totally customize the EQ. Other functions include adjusting on-ear controls and easy firmware updates.
    Extended Playtime
When you're short of time and running low on battery, charge the true wireless earphones in the case for 10 minutes and enjoy 2 hours of playtime.
    Full Touch Control
Use either earbud to control music, calls, activate voice assistants, or even power on/off.
    Mono/Stereo Modes
Simply remove one of the earbuds from the charging case to automatically enter mono mode or remove both for stereo sound.
Battery capacity
55 mA x 2 (earbuds); 500 mA (charging case)
Charging time
1.5 hours (for earbuds); 2 hours (for charging case via USB); 3.5 hours (for charging case via wireless charger)
Bluetooth transmitter frequency
Audio Source
iPhone, iPad, Samsung, Blackberry, Nexus, Smartphone, Computer, PC, Notebook, MP4, MP3, and more.
Only logged in customers who have purchased this product may leave a review.
Quick Comparison
Settings
Anker SoundCore Liberty Air 2 Total Wireless Earphones

remove

JBL Wireless Microphone

remove

Baseus Encok W3 True Wireless Earbuds

remove

JBL Tune 750BTNC Wireless Over-Ear ANC Headphones

remove

WiWU PA3IN1B Power Air 3 IN 1 Wireless Charger

remove

Anker Soundcore R100 True Wireless Earbuds

remove

Name
Anker SoundCore Liberty Air 2 Total Wireless Earphones

remove

JBL Wireless Microphone

remove

Baseus Encok W3 True Wireless Earbuds

remove

JBL Tune 750BTNC Wireless Over-Ear ANC Headphones

remove

WiWU PA3IN1B Power Air 3 IN 1 Wireless Charger

remove

Anker Soundcore R100 True Wireless Earbuds

remove

Image
SKU
194644025847
jbl-wireless-microphone
50036368919
6973218946382
R100
Rating
Price

LKR

18,790.00


or 3 X

LKR 5,633.33

with

LKR

55,790.00


or 3 X

LKR 17,250.00

with

From:

LKR

12,900.00


or 3 X

LKR 4,300.00

with

LKR

34,000.00


or 3 X

LKR 10,500.00

with

From:

LKR

19,500.00


or 3 X

LKR 6,500.00

with

LKR

16,750.00


or 3 X

LKR 4,966.67

with

Stock
Availability
Add to cart
Description

Diamond-Enhanced Sound
4 Microphones with cVc 8.0 Uplink Noise Cancellation
Up to 28 Hours of Playtime
HearID Technology
One-Step Pairing and Bluetooth 5 Connectivity
3 Months Warranty

High vocal quality and Original JBL Pro Sound
Rechargeable UHF dual channel wireless receiver
Plug and play
3 Months Warranty

Baseus Encok W3 TWS Bluetooth earphones with charging case bring the sound of incredible quality Advanced Bluetooth 5.0 technology for improved connection stability and high-speed transmission Touch sensor to manage your music, answer/reject calls, and wake up the voice assistant These wireless earphones have a 10mm moving coil unit which delivers reach audio details Noise reduction technology effectively reduces environmental noise, ensuring a clear sound Baseus Encok W3 headset microphone uses MEMS technology for clear conversations Shallow ear cups design in different sizes suitable for different ear types 3 Months Warranty

Active Noise Cancelling
JBL Pure Bass Sound
Hands-free calls & Voice control
3 Months Warranty

Easy to carry
20w wireless charging up to 15w per unit
A multi-function FIP stand which can be used as a phone stand
3 Months Warranty

IPX5 water resistant
Dynamic drivers with deep bass
3 Months Warranty

Content

Anker SoundCore Liberty Air 2 Total Wireless Earphones

    Diamond-Enhanced Sound

Ultra-lightweight, yet rigid diamond-coated drivers produce sound with premium accuracy.

    Crystal-Clear Calls

Liberty Air 2 true wireless earphones have 4 built-in microphones with cVc noise reduction technology—ideal for when you're working from home or taking conference calls.

    Soundcore App

Use the app to enhance your listening experience—choose from 22 EQ settings, use HearID to create your own personalized sound profile, or totally customize the EQ. Other functions include adjusting on-ear controls and easy firmware updates.

    Extended Playtime

When you're short of time and running low on battery, charge the true wireless earphones in the case for 10 minutes and enjoy 2 hours of playtime.

    Full Touch Control

Use either earbud to control music, calls, activate voice assistants, or even power on/off.

    Mono/Stereo Modes

Simply remove one of the earbuds from the charging case to automatically enter mono mode or remove both for stereo sound.

High vocal quality and Original JBL Pro Sound JBL Wireless Microphone, the crystal clear clarity from the JBL wireless mics means no jamming, delay, or distortion. Your voice will sound on point, with the backing of incredible Original JBL Pro Sound.

Rechargeable UHF dual-channel wireless receiver There's no need to fly solo unless you want to take center stage of course. Connect two JBL Wireless Microphones together and hear both voices blended perfectly through the speaker for up to 6 hours of playtime.

Plug and play When you want to be heard, you want to be heard now. The JBL Wireless Microphone has a super simple setup. Just turn on the receiver and wireless microphone and you're good to go instantly.

It's time for you to take center stage. JBL wireless mics deliver Original JBL Pro Sound with crystal clear vocal clarity and detail.

Sound your best and hit the high notes with no distortion or delay. Just plug the wireless dual-channel receiver into your speaker, turn on the mics, and you're ready to shine.

Easy replaceable AA batteries, so you can belt every note until the sun comes up.

Time for a duet? You'll hear both mics blended perfectly through your speaker. Get ready for the spotlight.

JBL Tune 750BTNC Wireless Over-Ear ANC Headphones

Active Noise Cancelling

Tune in to your music. Tune out the noise.

JBL Pure Bass Sound

For over 70 years, JBL has engineered the precise, impressive sound found in big venues around the world. These headphones reproduce that same JBL sound, punching out bass that?s both deep and powerful.

Hands-free calls & Voice control

Easily control your sound, manage your calls and triggle voice assistants from your headphones with the buttons on your earcup.

15H battery life with BT+NC

2H recharging time

Multi-Point Connection

Allows you to effortlessly switch from one Bluetooth device to another. You can simply switch from a video on your tablet to a call on your mobile phone, so that you?ll never miss a call

Wireless Bluetooth Streaming

Wirelessly stream high-quality sound from your Bluetooth devices without the messy cords

Lightweight and foldable design

Lightweight and compact foldable design makes these headphones always ready to travel everywhere you go

Your music, noise free

JBL TUNE 750BTNC wireless headphones feature powerful JBL Pure Bass Sound and active noise-cancelling for punchy bass and an immersive audio experience. The lightweight over-ear design offers maximum comfort and sound quality while ready to travel everywhere you go with its compact foldable competence. 15 hours of battery life which recharge in only 2 hours enables noise-free, wireless playback. Allowing connection with two Bluetooth? devices simultaneously, the multipoint connection makes sure you won't miss a call on your phone while streaming videos on your tablet. Keep your music playing endlessly with the included detachable audio cable which extends the noise-cancellation capability up to 30 hours. JBL TUNE 750BTNC comes in various colors matching your personal style.

WiWU PA3IN1B Power Air 3 IN 1 Wireless Charger

Easy to carry.

20w wireless charging up to 15w per unit.

A multi-function FIP stand which can be used as a phone stand.

Bottom winding function, can store long cable.

High-Quality fabric cover, No abrasion.

Anker Soundcore R100 True Wireless Earbuds

Soundcore R100 wireless earbuds come with a stick design alongside rounded ear tips with soft buds. And, it has a polycarbonate finish available in the Black color option. Considering the design, the earbuds have a trendy design that may draw attention.

Soundcore R100 from Anker is loaded with 2x10mm Dynamic drivers with deep bass. Also, you can control music playback, incoming calls, on/off, or reset the buds with the tap of your fingertip. Besides, the wireless earbuds are IPX5 rated that protects them from spills and splashes.

Soundcore R100 earbuds get juice from a Lithium battery inside the charging case. Judging upon its competitors, the earbuds should deliver at least 5-days of power backup. Besides, it takes around 1.5-hours to fully charged.

The TWS comes with Bluetooth 5 with SBC and AAC codec. Also, it offers a wireless range of up to 10-meters. Besides, it has a USB Type-C charging port.

Weight
N/A
N/A
N/A
N/A
N/A
N/A
Dimensions
N/A
N/A
N/A
N/A
N/A
N/A
Additional information